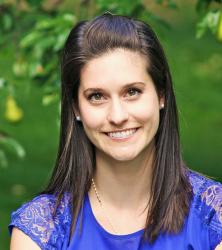 Andrea D'Ambrosio
Andrea is a Registered Dietitian and owner of Dietetic Directions, a nutritional counselling and education company. Andrea's mission is to inspire clients through motivation and guidance to achieve life-long health behaviour changes. She has taken continuing education in the areas of Food Allergy and Food Hypersensitivity, Health Research Literacy, Motivational Interviewing & Coaching for Behaviour Change.
Many women planning on becoming pregnant want to ensure they are meeting their nutritional needs to provide the best possible health outcomes for their unborn child.  Poor dietary quality, chronic dieting, unhealthy lifestyle behaviours (such as sedentary lifestyle, stress, alcohol, smoking) and a diet lacking key nutrients, all compromise the health of an unborn child.  Today's article […]
Did you know that two out of three adults are either overweight or obese? Moreover, every one of us is at risk for gaining weight. In fact, the average adult gains one to two pounds each year. These small (often unnoticed weight changes) can accumulate and may increase risk of developing heart disease, diabetes and […]
Last week, the Canadian Medical Association Journal (CMAJ) published an article entitled "Food Guide under Fire at Obesity Summit".  One of the main issues was how fruit juice (125mL) is counted towards a fruit and vegetable serving on the Food Guide.  With this logic, having a couple cups of juice daily could help you reach […]
Healthy eating can be a challenge. After all, we live in a fast-paced society where convenience is a major predictor of food choice.   With this in mind, I would like you to open your fridge and tell me the first three things you see. According to food behaviour researcher Brian Wansink, we tend to consume […]
This blog is dedicated to all my fellow sushi lovers and all those who have ever wondered if this food is actually healthy.  It is common to assume that it is healthy; after all, it is simply white rice and fish. Today we will explore the question, "is sushi healthy and if so, how much […]
In order to age successfully, our goal is to make our health last as long as possible.  In my previous blog, I addressed the top five nutritional changes that occur as we age.  Today, I will highlight my top 10 nutrition tips for healthy aging. My intention is to urge even one reader to take […]
According to the Office of Dietary Supplements, iron plays an essential role in human body functioning. Iron is involved in delivering oxygen to cells and regulating growth. Therefore, when there is a shortage of iron, oxygen supply to the cells becomes limited, leading to fatigue, poor work performance, pallor and decreased immune function. These symptoms are also known as anemia. However, too much iron is dangerous and […]
In my last blog, I explored rushed mornings and missed breakfast; today, I will tackle the tricky lunch meal. I will address top 3 lunchtime challenges, why this is a health concern and then I will provide some tips.
It is no surprise that we have an aging population; those over the age of 65 are the fastest growing population group! It is estimated by year 2030, more than one in five will be over the age of 65 (Heath Canada, 2002). As we age, our nutrition needs shift from a focus on growth […]
The Low FODMAP diet is an emerging, scientifically proven and very promising diet for those suffering with Irritable Bowel Syndrome (IBS). Common symptoms of IBS include: abdominal pain, bloating, cramping, and changes in bowel habits. The frustration is that there is usually no clear food-symptom link. The Low FODMAP* diet originated in Australia, and research shows that 3 out of 4 people find tremendous success on this […]
Do you spend most of your waking hours sitting?  The sobering answer is that the vast majority of us spend more time sitting than we do sleeping! It is safe to say that sitting long hours is the new norm.  Many of us have sedentary jobs; we sit commuting, we sit to eat and we sit […]
Does the morning mayhem cause you to jet out the door without first fueling yourself?  The reality is that almost 40% of Canadians skip breakfast according to the latest Tracking Nutrition Trends report. As a dietitian, this is a major concern since skipped breakfasts lead to weight gain, decrease in appetite control and decrease in […]