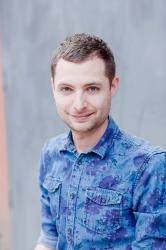 Bernard Lavallée
Bernard Lavallée is a nutritionist and author of the blog Le Nutritioniste Urbain. Specialised in communication and popular science, he has worked at Extenso, where he is frequently asked to comment on news and trends in nutrition for various media, since 2011. His goal is to use all forms of communication to reach consumers.
Recent posts from Bernard
A new study on artificial sweeteners has been published in the scientific journal, Nature. Since its publication, my News Feed has been full of articles encouraging people to give up artificial sweeteners because of this study. As I've always disliked knee-jerk reactions to alarmist news, here are some details to help you clearly understand the […]
Trans fats garnered loads of publicity in the early 2000s and with good reason. The scientific community unanimously agrees that these fats have a harmful effect on cardiovascular health. What's more, with the exception of dairy products, these fats are found primarily in ultra-processed and nutrient-poor foods, which certainly doesn't help their cause. To be […]
Health Canada proposes to change food labelling. I'm sure you can imagine how huge this news must be for a dietitian! Given below is a summary of what I think are the most important changes, and my take on each of them.
Eating is a very important act of socialization in our lives. For example, dining together as a family has many health benefits. Not only is the food on the table often more nutritious than a meal eaten alone, such habits also encourage family bonding.
I don't know about you, but each time I buy fresh herbs, I end up wasting some because I don't know what to do with so much. This is often the case with mint. Every year, we rent a cabin along with some dietitian friends and mojitos are always on the menu! This time once […]