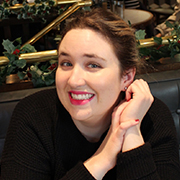 Jef L'Ecuyer
Member of the Quebec College of Dietitians (OPDQ) and Dietitians of Canada,Jef graduated from McGill University in December 2014. Recently graduated and passionate about culinary arts, Jef poses a simple, effective and practical look at daily meal planning. With this in mind, she works in conjunction with the mission of SOSCuisine...
As part of Nutrition Month 2018, I want to take you on a journey; discovering the different powers of food…
In my previous article on fibromyalgia, I shared how a low-FODMAP diet can help manage its associated gastrointestinal symptoms. If this type of diet isn't for you, or if you have neither stomach aches nor other functional digestive issues, I have a few other tips to help you live better with fibromyalgia. Note that these […]
Fibromyalgia (FM) affects between 2 and 4% of the population. Up until now, there are no efficient solutions to manage the symptoms associated with fibromyalgia (FM). However, according to a group of researchers, a low-FODMAP* diet could not only reduce gastrointestinal symptoms, but also improve quality of life and reduce pain for people affected by […]
As mentioned in my article Fasting to Live Longer?, I will now talk to you about the role of fasting in weight loss and weight management, in some chronic illnesses and in cancer.
Fasting seems to be the new trendy thing to do. Whether that's fasting for a few hours, a few days, or intermittently, a host of benefits are associated with it. But are the benefits real?
According to statistics, up to 25% of people suffer from gastroesophageal reflux disease (GERD). The symptoms can be varied, but in most cases, this means heartburn.
We've often talked about FODMAPs* in the last two years on our blog (for example here, here and here). One topic we've never touched on? Low-FODMAP diet for children who suffer from functional digestive issues (stomach ache, diarrhea, constipation, gas, etc.). I'm going to make the most of a recent article on this topic published […]
In sports nutrition, timing is ultra-important. That's why we've split the recipes in our Sports Menus into four sections: Recipes for 3 to 4 hours before the activity – Full meals Recipes for 1 to 2 hours before the activity – High-Carb Snacks (HCS) Recipes for during the activity – Emergency Carb Snack (ECS) Recipes […]
Sulphites are one of the top 10 allergens identified by Health Canada. They also have a bad reputation…. They're blamed for a plethora of problems, from migraines to allergic reactions. But what's the real situation? Allow me to share what sulphites really are, how to identify them in foods, as well as a solution for […]
If you suffer from diverticular disease, I'd like to offer some diet recommendations, both for the active stages of the condition (diverticulitis) and the remission (diverticulosis), as well as set straight a few myths that surround this illness. Diverticular disease is a common illness. Small pockets (diverticula) form on the lining of the large intestine, […]
Nutrition is a constantly and rapidly evolving science. So much so that it can be difficult to stay abreast of the latest revelations relating to nutrition. That's why I recently took part in the Dietitians of Canada Annual Conference St. John's. I found the 3 days enriching, and I was able to meet dietitians specialized […]
It's been on the cards for several years, but is now official: a new food guide will be available by 2018. The current food guide (pdf) will be replaced by a set of resources that will help the public and health professionals make healthier dietary choices, and better guide patients and clients. On June 10th, during […]