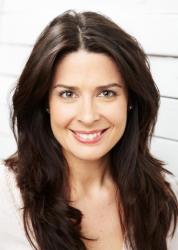 Marie-Maxime Bergeron
Changing eating habits gradually and adapting to the needs of my clients is the cornerstone of my approach. Eating well for fun and for health is the goal and everything begins with a return to simplicity in our habits. I am a nutritionist and have offered counselling in nutrition for 10 years.
Recent posts from Marie-Maxime
There's no such thing as miracle diets, otherwise everyone would know … and not just celebrities! These so-called diets often create imbalances and can even damage your health if they are followed for a long period of time. Celebrities might be more on top of the latest dieting fads but that doesn't necessarily make them […]
The holiday season often goes hand in hand with weight gain. The following tips will help you enjoy yourself thoroughly during this period without piling on the kilos.
Do you get sick often? Your immune system may be to blame. There are many factors that influence your immune system, such as your stress levels, age, diet, etc. Among all these factors, your diet plays a huge role because immunity is a complex system that requires all the nutrients to function optimally. In order […]
In order to maintain a stable rate of blood sugar (blood glucose level), it's important to eat at regular intervals and to have healthy snacks between meals, especially if you spend more than 3 or 4 hours without food. But which snack should you choose? To remain energized all day long, you should pair a […]
An adequate, but not necessarily perfect diet is important to ensure proper nursing and prevent burnout. 1. Sufficient energy intake Nursing mothers have higher energy requirements, roughly 400 kcal more each day during the first year of lactation. Canada's Food Guide recommends 2 to 3 extra servings from any food group. Divide your servings into […]
Detoxify your diet! Over the past few years, it has become glaringly obvious that our grocery stores are crammed with processed food. However an increasingly popular movement is, in some way, an antidote to this problem: clean eating, i.e., a simple and natural diet. Its principles will result in improving the quality of what you […]