Colombian Delicacies
When I first departed onto my Colombian adventure, I had very little knowledge of the country, let alone its culture, its beautiful landscapes, its music ("vallenato" and "cumbia") and most importantly its rich gastronomy.
Colombian food is quite distinct from its South American neighbors and has many of its own typical delicacies.
Your every day meal: A Typical Colombian Almuerzo (Lunch)
"El almuerzo" typically starts with a scrumptious soup; usually a simple broth made of garlic, onion, coriander, chopped vegetables such as potatoes and carrots and small noodles. Then comes the generous main dish that consists of meat such as chicken or beef accompanied by beans, potatoes, plantain and a small vegetable salad.
Ajiaco
This soup is the most typical dish from Colombia's capital, Bogota. It contains pieces of chicken, large chunks of corn on the cob, different types of native potatoes (papas criollas, sabanera and pastusa), and guasca which is a common herb that is used in many South American dishes. This soup is served with a plate of avocado, capers and cream that you can add to your soup before beginning to eat it. This was definitely one of my favorite meals. But watch out, it's quite heavy! This is considered a full meal.
Bandeja Paisa
This large dish, typical from Colombia's second largest city of Medellin, situated in the Paisa region, is a large mix of different foods and flavors and is served on a tray. The bandeja consists of thirteen main ingredients: red beans cooked with pork, white rice, ground meat, pork rind, fried eggs, plantain, sausage, arepa, hogao sauce, black pudding and avocado. This dish offers all of the delicious Colombian flavors in one platter.
The following two tabs change content below.
Author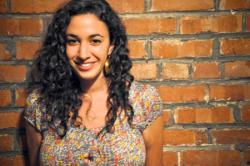 Emanuela Orsini, also known as "Manu", is a talented young lady who shares her culinary discoveries with us.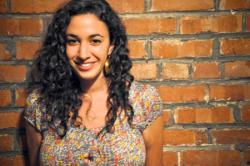 Latest posts by Emanuela Orsini (see all)